Accommodation at Colligere1841
Unique is the lifestyle of this Saxon village in Transylvania. Time passes slow(er) here than everywhere else. The only 'noise' you'll hear is of the bells from the cows, ducks, dogs or horses. Each evening at 9 pm it is an event for visitors to witness the returning of the cows, goats and horses.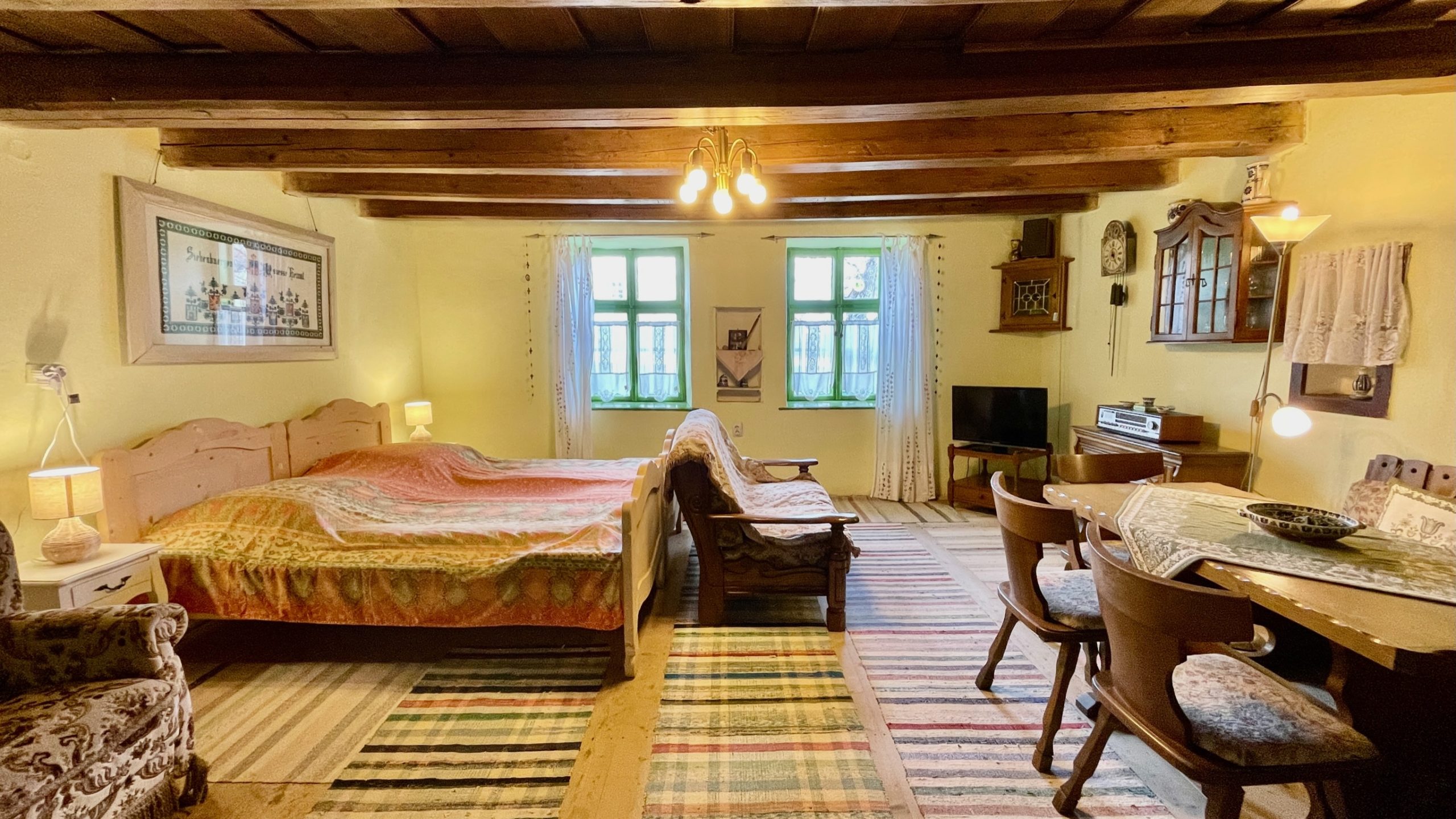 Stube – Room 1
A large private room with a large double bed, sofa, small wood stove and seating area. Visitors are staying in the old part of the house, which is located at the front side of the house with a view to the main street (Strada Principala). The bedroom is suitable for maximum of 4 guests. For instance: 3 adults or 2 adults and 2 kids.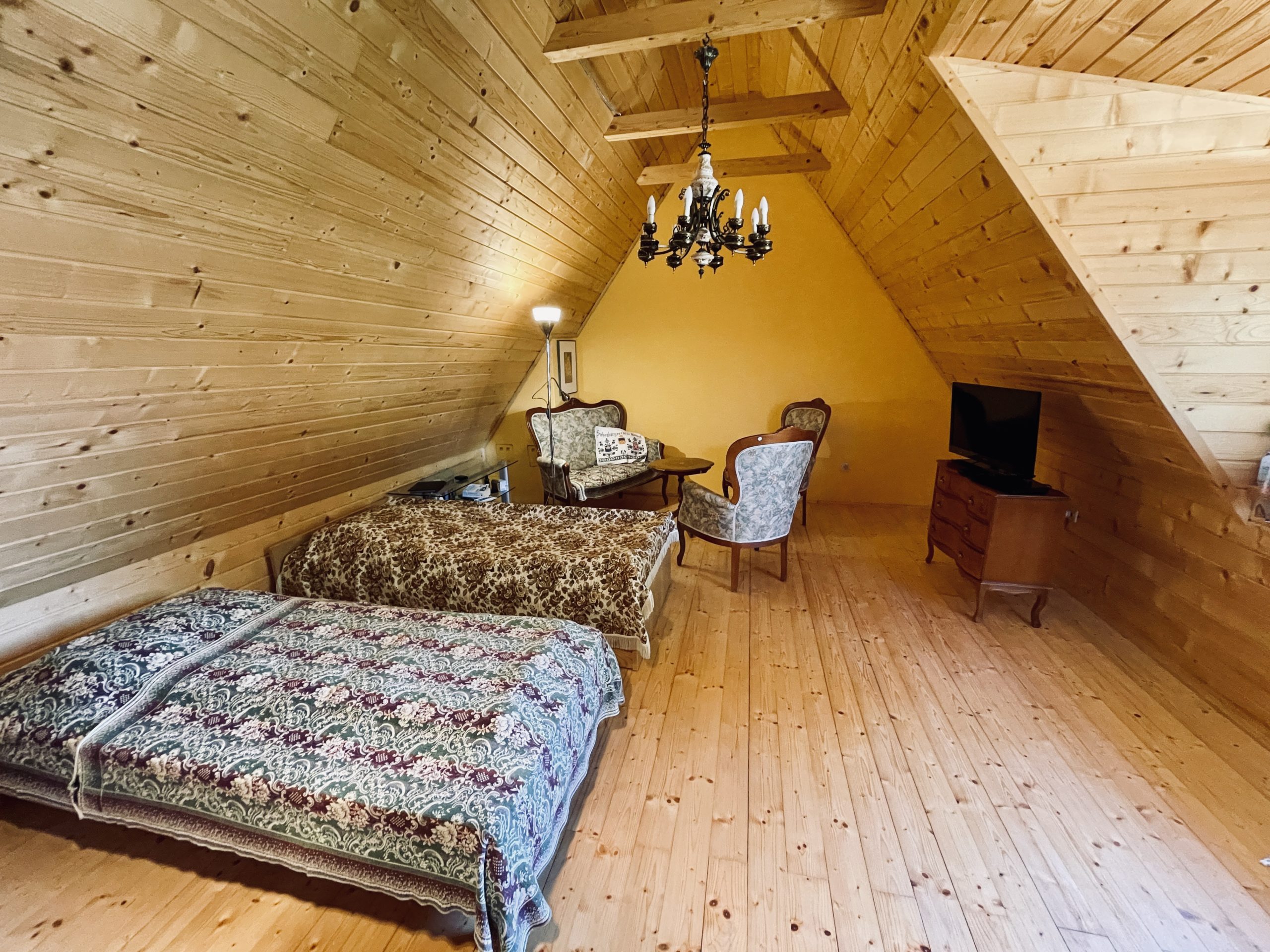 Rococo – Room 2
A nice private room with two single beds. As the name suggests, the furniture in this room are selected in the baroque/rococo style. Guests can enjoy a view to the courtyard. This room is suitable for two adults and is available on demand. Please contact us for the availability of this room during your stay.

Bathroom
The large bathroom comes with a toilette, shower and bathtub and with enough space for two people at the same time. We also provide a washing machine which guests may use.

Kitchen
Provides you with all you need to cook including a fridge with a freezer and a gas oven. The dining table is big and fits 8-10 people. When it is very hot in the summer the kitchen is always a nice calm place to cool down.

Inhouse Meals
We offer you on demand inhouse meals for breakfast, lunch and dinner cooked by our private chef, Elena. She prepares mostly traditional Romanian cuisine. Guests need to tell Elena before hand whether they wish a meal and pay her directly. Breakfast 30 RON, Lunch 60 RON, dinner 60 RON. If requested we can provide you a invoice for all expenses you had with Elena.

Beehouse
An open space between two historic bee houses (1932 and 1947) of Michael Markel where there used to be a busy bee traffic up until 1980s. Today unfortunately there are no longer bees. However one can still smell the bee wax in the bee houses. The terrace is a place to have your meals and beverages and relax with friends.
Barn Terrace
This is a even more tranquil place than the bee house terrace. You'll enjoy the space and vast view to the orchard and big gardens behind. It is perfect if you would like to read a book in a calm Environment or simply lying in our hammock and listen to the nature.

BBQ Grill
A very special feature we can offer you if you want to grill meat, sausages etc. In order to make sure that all goes safely we request you kindly to ask our housekeeper Claudiu to show you how to use the BBQ and/or the open fire place.

Free Parking
If you arrive with a car or motor cycle, you are welcome to park your vehicle free of charge on our estate's premises.
Die Umgebung
Things to Do & Day Trips
Dining
Some of the best restaurants in our village are located in guesthouses. You can also just go for dinner at this guesthouses without having to book a night to sleep. Usually you need a reservation beforehand.
1. Viscri 32
2. Viscri 125
3. Viscri 195
4. Ramona 143
Nearby the fortified Church, you can find Cafe Artizanat, Viscri 73. It is just located outside the Castles walls and offers you a simple but nice meals/deserts for a very good price.
Inhouse dining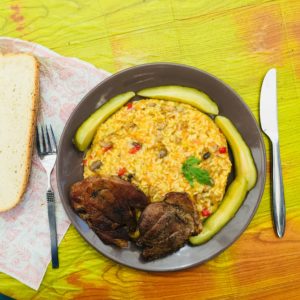 Our estate offers you the option for inhouse dining prepared by our neighbour, Elena. Elena serves mostly traditional Romanian cuisine. If you would like to order inhouse dining prepared by Elena, you have to inform Elena in advance for the type of meals and which days you would like them, and pay Elena directly. Breakfast 25 RON, Lunch 50 RON, dinner 50 RON. If requested we can provide you a invoice for all expenses you had with Elena. 
Sightseeing
The medieval fortified Church stands on top of the hill of the village and is the most recognisable landmark of Viscri. Every guest should visit this site and to learn more about the way of living in the past in Viscri you should go to the museum which is at the same location. You can also go up to the highest tower and have an amazing panorama view.
Panoramaausblick genießen.
Horseback Riding
Transylvania on Horseback is an equestrian tour operator based in Viscri. Guests can book horse rides with Christian Radu via this website.
Mountain Bikes
One can rent mountain bikes in the village with Guesthouse nr 125. You will need to check the availability of the bikes in advance with the administation of Guesthouse nr 125.
Carriage Ride
This is one of the easiest and nicest way to explore the meadows surroundings of Viscri by a Cart Ride with a horse and a conductor. Our housekeeper Claudiu can organise this for you for a reasonable tarif. A ride can take up to six people and could last several hours, depending on the route.
Supermarket
There is a small supermarket across the road from the estate.  It is the only supermarket in the village. This supermarket sells basics and do not offer a big selection of items. If you wish to buy food we recommend you to go to Rupea (Reps) about 10 km far. In Rupea you have good supermarkets like PENNY MARKET, PROFI, and some other stores. Also there is a Raiffeisen Bank if you need cash money.
Rupea
The ruins of the old Castle of Rupea is the nearest place to visit. It is been wonderfully renovated and open for visitors. About 15 minutes by car.
Brașov
A vivid big city with a charming old centre in which the Black Church is a centre point. The city offers you a rich cultural life, many Transylvanian restaurants and bars. Located very close to the Southern Carpathians it is easy to get up to the Poiana, ski resort within 30 minutes from Brasov Centre. About 1 hour by car.
Sibiu
Cultural Capital of Europe in 2007, it is a Transylvanian-saxon town build on two levels, upper town and lower town with small streets, old stairs and bridges preserved its charme. With many very good restaurants, bars, stores, Theatres and Concert house Talia Hall and the Bruckenthal Museum it is a cultural capital of that region.  About 2,5 hrs by car.
Bâlea Lake
A glacier lake situated at 2,034 m of altitude in the Făgăraș Mountains. Worth visiting if you would love to see high mountains. 2,5 hours by car from Viscri.
Sighișoara
A medieval castle town listed by UNESCO as a World Heritage Site. Every year in July, the Medieval Festival is organized. The historic houses of the inner city, as the "Venetian House" or the "House with deer" and the eight churches create a special atmosphere. 1 hour by car.
Johann's place in Viscri will offer you an authentic rural experience. No luxury, but the smell of an old house. No fancy furniture, but amazingly beautiful. You will definetely enjoy it! I highly recommend it.
L'arrivé à Viscri est plus qu'une expérience. Le temps s'arrête, tout devient plus calme et on oublie de là où on vient.. Johann a été plus que parfait, attentionné et a préparé une arrivé royale. Le cottage est simplement sublime: à Viscri les maisons se passent de génération en génération. Une expérience unique.
What a beautiful place to stay! I highly recommend this magical and private dwelling in the fascinating village of Viscri. Johann is the perfect host and looked after me long distance while his lovely neighbours met me on arrival and were there to call on if needed. Comfortable, sincere surroundings with an understated elegance and charm. A thousand stars.
Schönes, altes Haus mit viel Charme und sehr netten und ums Gästewohl bemühten Gastgebern im wunderbar idyllischen Deutsch-Weisskirchen. Wir haben uns sehr wohlgefühlt!